Updated By: Alison Schroeder on Mon, Jul 03, 2017
As of this week, I've been in the professional world of marketing and advertising for 15 years. I wanted to create a list of sorts that highlight what has changed (hint: everything and/or Google) and what hasn't (common sense and work ethic) to summarize where my career has taken me and what I've seen in this enigmatic industry.
My grandma was right – the older I get, the faster time will go. She was certainly onto something. At 86, she now lives her life in flashes of gardening and Minnesota Twins seasons sprinkled with harvesting pumpkins and epic snowfalls that prevent her from getting to Quilting Club. Time just vanishes.
Feelin' 22
In that vein, I agree as I recently caught myself saying I've lived in St. Cloud for 15 years, which is when I graduated from college. Am I 15 years into my career? How can that be? It seems like yesterday I was dutifully showing up to my first job wearing the same black pants about three days a week, tucking a Lean Cuisine into my bag for lunch. I had health insurance, I had 401k, and I had business cards.
I was 22 years old. 22 years young, there's nothing old about the age 22. I remember sitting in my apartment's walk-in closet on the floor talking to my Dad who was pepping me up for my very first interview – giving me pointers, and encouraging me that I would get the job. And, if I didn't it would still be a good learning experience.
I had answered a classified in the newspaper that simply said, "Looking for a fast-paced and exciting career? Call this 800-number." That was the extent of what I knew about the job or company. Today, that makes me cringe because that's the beginning of every single Law & Order or NBC's Dateline episode.
And, I found that listing in a hard copy of the newspaper. I'd lived in St. Cloud for all of a month. I barely knew three people, had zero network, and absolutely no friends in high places to speak of. I had a library card – my first order of business once I had a new address, and the common sense to save quarters not only for laundry but also for buying the paper to look for jobs circa-2002 style.
Marketing, Advertising, & My Whole Heart
I was hired the same day for that particular job – as an admin-type worker bee at a small, local advertising company that had just discovered a whole new medium: onscreen movie theatre ads. Its promise to clients? "There's a captive audience sitting in those darkened auditoriums with nothing to do except watch your ad onscreen." That was my introduction to marketing – how finding people and serving them intentional messaging was an actual strategy in the business world. It was brilliant and ballsy all at once... and I wanted in. Forever.
I stayed in that industry for over 12 years. Today from my perch in the content world, I still work hard to find those people and serve them intentional messaging (content) in order to pair up problems and solutions in just about every industry imaginable. Yet, so much has changed in the last 15 years. Those people in marketing – now called consumers or personas – no longer marvel at ads that appear on screens anywhere – movie theatres or otherwise. There's novelty in just about… nothing. People consume over 10 hours a day of media and as a byproduct, are served up around 3,000 advertising messages in a day. One day.
Consumer Habits Have Changed
I still sigh with deep appreciation when I see a beautiful example of well-crafted typography on a billboard, in a magazine, or other print materials. That's my natural inclination and passion. Why then if traditional media is my true love do I work at a digital-based content agency? Because that's where the people are. Walk into Starbucks. Hop on public transit. Even watch people at their kids' sporting events.
They aren't reading glossy publications or newspapers. They are head down in devices and digital worlds. That's where the people are - and 96 percent of Americans shop online. The consumers I'm trying hard to reach aren't relying on traditional media to get the answers to the questions, or the solutions to their problems. I'm embracing that - something I have to do if I want to remain you know, relevant, in this day and age.
Ask Questions
The brain is a muscle, and it needs exercise just like the rest of the human body. Being curious is an easy way to give gray matter a little cardio. Plus, it shows engagement which is a very good trait. In this industry, there's no accepting things at face value. We're paid to poke, prod, and be relentless in our pursuit of what's best for clients and consumers. Fostering curiosity means finding innovation and new ways to do the same old things. Of course there's a part of being a question-asker that can be too much sometimes. Think of it like looking in three places before you ask someone where something is. I graduated from college without Google or a cellphone and I think because of that I became a critical thinker just out of survival mode. Google is an amazing shortcut and ass-saver, don't get me wrong. Thinking and problem-solving are timeless.
Hope is Not a Strategy
When I worked for that screen advertising company, I remember asking one of the service technicians about the proof of performance process. How do you know those moviegoers will actually see these slides? How do we tell our clients their ads will actually be seen? The answer was pretty vague - and a lot of it hinged on hope. We hoped ticket sales would produce an auditorium full of captive viewers. We hoped those viewers were actually in their seats when the ads began rolling. And, more than anything, we hoped the theatre staff - usually a teenage kid - would remember to actually turn the slide carousel on before showtime.
Hope. It's exhausting when that's what your strategy is based on. Thankfully, 15 years later we have this handy little trade secret known as analytics. Marketing and advertising campaigns still have an element of hope to them because that's what creatives do, time and time again. But analytics are less about blind faith, and more about being intentional and casting a much smaller net.
There is No Cheat Code for Ethic
You either are a good business professional, or you aren't. There isn't a lot of gray area when it comes to character, virtue, and work ethic. That saying fake it until you make it doesn't relate to people; it relates to skill and ability. You can fake your proficiency and you can fake your enthusiasm about a position, team, company, or industry. You can't fake who you are at your core. Great leaders and great companies can see that, it might just be a matter of time before you're exposed. Take time to cultivate your personal brand and values. And, be unapologetic about it.
The World Gets Better
What I mean by this is jobs that are hard and positions that are dull are usually temporary. Especially in marketing. And, overall I think people are more empowered and emblazoned to be direct in their careers. People are encouraged to speak up about their skills and passions. Most organizations focus on seats that need to be filled, and how to fill them with the right people. Gone are the days of spending a work week, or year, or career settling or accepting roles that just aren't right. That's my advice for young professionals, too. The world gets better. Trust the process, do the work, and use your voice.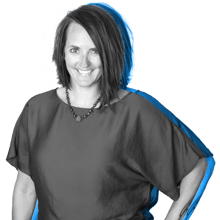 About The Author
Alison Schroeder
My fire is fueled by the relationships I make, build, and cherish. I love hearing people's stories, what makes them who they are, and where I fit into their lives. As the Content Services Manager at Leighton Interactive, I'm a storyteller. I'm lucky that I can use my natural ability to help people find their voices, tell their stories, and reach their goals so their businesses can get results. Outside the office I get excited to find sunshine, consume iced coffee, work out, or add unique pieces of jewelry to my ever-growing collection. I also tell stories on behalf of AAF and serve as District 8's Second Lt. Governor & NSAC chair.