Updated By: Alison Schroeder on Mon, Dec 28, 2015
Year-end is often accompanied by goal setting, budgeting, and hoping no one throws up at the holiday party. But aside from all the usual forecasting your company does for the next calendar year, have you considered what your marketing plan looks like? Have you taken a hard look at what's not working, where you could use help, or what steps you can take to affect change? Here are six considerations for your marketing plan for the New Year.
1. Develop Personas
I recently had a conversation about people, and how you can't effectively manage them based solely off the way you want to be managed. It's like love languages; just because your love language is gifts, doesn't mean you should buy gifts for others thinking it's their love language, too. The way you market to others is a lot like that – many times, businesses try to market the way they wanted to be marketed to. It's ineffective. The best way to know how to market to your target audience is to develop personas. You need to create a semi-fictitious representation of real people, diving deep into research on how your persona works, studies, purchases, validates, eats, and sleeps – basically.
My favorite way to create personas at Leighton Interactive is to interview real people. I ask them all sorts of personal questions ranging from their families, their favorite magazine, to what drives them absolutely mad about decision making. Everything personas do matters – yes, even the magazines they read. There is no perfect marketing strategy we can offer to get you results, but by learning what your persona is doing and how they behave will help narrow your funnel. Only once you've built your persona can you begin to effectively market to them. No matter the form of content you create and push out, optimize it for your persona, not for everyone. It's a surefire way to work smarter instead of harder.
2. Critique Your Writing Skills
I'm going to add a sub-category to this number, and that's headline writing. Write better headlines. You already know how bombarded consumers are with content on a daily basis. You have to compel people to read your stuff. But – writing better headlines needs to be fortified by well-written content, too. Most people sit down with their laptops or mobile phones to look for specific content, and they won't waste time wading through piles of content to get the information they're looking for. Write like you understand their urgency. If you're new to copywriting, kick it old school with the inverted pyramid metaphor journalists have used for decades. Start with your most newsworthy content – who, what, when, where, how – the basic principles of storytelling. Then fill in important details that if your reader skips, won't detract from the intent of your writing. Lastly, fill the bottom of the pyramid with other general or background information.
Personally, I love content. Content in general. I could read for hours on random, endless topics from a variety of sources. It's my hobby. But I am not your persona. And when I want to solve my problem, I want content that is smart, well organized, and written with non-fluffy clarity. As more and more marketers and brands focus their efforts on content creation, they are jumping into an endless tide pool of never-ending content. The only way you will stand out is with engaging, creative, and stellar copywriting and headlines.
3. Use Social the Way it's Supposed to Be: To be Social
As a business owner, undoubtedly you want to reach more people. Social media is the platform for that. But conducting social media on behalf of your brand is more than posting staff photos or sharing promotions. Your social media strategy should include ways to increase website traffic and conversions from leads to customers. Facebook, Twitter, LinkedIn, Google+, Pinterest, Houzz, YouTube … these channels should be considered tools to further enhance your online presences and support your overall marketing efforts, not as separate, unconnected pieces. Maybe you're already managing an online presence you're proud of, and is working. In that case, go where else the people are. Comment on blogs. Join forums. Feature guest speakers on your platforms, do anything to be social. Engage where there are people – more specifically, your people.
In 2015, 73 percent of Americans had a social media network profile. If someone is already on one of those channels and suddenly remembers they need an oil change, a doctor's appointment, or replacement light bulbs, there's a good chance they'll conduct that research within that social platform. Your profile can help them solve their problem. If you've defined and discovered your persona, you already know what channels they're on. Focus on that segment. You are not bacon; you cannot be everything to everyone all of the time.
4. Foster Your People - Culture
You might wonder what culture has to deal with marketing, and the short answer is everything. The longer answer looks something like this. If you are spending all your time and money on your marketing efforts, make sure your talent is engaged and producing the best work they can. Your people are your doers, your brand ambassadors, your innovators, and your contributors. And, they're doing it on behalf of your personas. Your job is to ensure they are bright, passionate, supported as freethinkers, and exposed to the tools and resources necessary to do their jobs. All of this happens when your culture is an active part of your business plan, and not an afterthought. HubSpot, for example, is continually lauded for its workplace, and being one of the best places to work in the country. Why? Read their Culture Code and you'll see.
We were so inspired by HubSpot's culture and the radical idea that people should always be put first over any other aspect of business, that we created our own Culture Code, here. We're joining a movement – the people movement. People create great businesses.
5. Take Better Photos
The idiom A picture is worth a thousand words has never expressed more truth than in the world of content marketing. People are never going to read 1,000 words. But they will see your photos in the visual commerce world in which we live. Yahoo! estimated 880 billion photos were taken in 2014. So – in terms of marketing, it's not a question of if you should take, use, or generate photos, but how to best do it. Technology is on our side, too. If you don't have any expertise or a team member who does in photography, pick up your smart phone. Apple's iPhone 6S has 12 megapixels of resolution and 4K video capability. Samsung Galaxy S6 has a 16 megapixel camera, so no matter your handheld, you'll wield the power to take some pretty mighty photos to use in marketing.
But, there's more to mobile photography than point and shoot. The same basic principles of camera photography apply to devices, like candids, perspective, negative space, focus, subject, and use of flash. Become a smartphone photographer extraordinaire with HubSpot's 17 Tips & Tricks for good pictures.
6. Turn Your Website On
While you've probably had your URL for years now, what kind of audit, if any, have you conducted of your company's first impression, and best sales person? If your website is out of date, not performing, or not targeted toward your personas, it's time for an upgrade. But don't freak out at that prospect; there's something better than traditional web design which has high upfront costs, a big time line, and no guarantee it will generate results. That something better is growth-driven design.
Growth-driven design focuses on minimizing risk of traditional website redesigns, and centers on the fluidity of the marketplace. Think of the goals or initiatives your company had in Q2 this year. Does that seem like light-years away? That's business. We are constantly researching and gauging success as an ongoing approach to websites. Websites are not static. They are dynamic marketing machines that should be designed to measure results and create a fantastic experience for the end user. It's like driving your brand-new vehicle off the dealer's lot and knowing the depreciation already plummeted before you hit that first stoplight. Approaching your website design the traditional way is a lot like that. Launching after 90 days or more and feeling like your brand just depreciated. This humbling methodology takes the power out of assumptions from designers, CEO's, and managers and places the decision of what's best for your website on analysis and reaction from the user's experience. Being "right" in design and being "perfect" in design do not exist. Build your website, or have someone else build it, unleash it to the masses, and let your personas define what works and what doesn't. Analyze, learn, adjust. Repeat.
Six little steps towards building a better brand experience for your company through marketing in 2016 and beyond. Maybe you're scoffing at my casual use of little, and the goals you have and the results you want seem lofty or unattainable. If that's the case – it might be time to consider partnering with someone to manage those six steps and a million more on your behalf. Let me know if you're in that camp and we'll talk.
I can't wait to ask you what your favorite magazine is.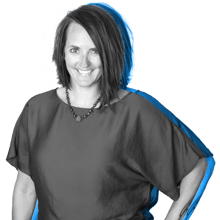 About The Author
Alison Schroeder
My fire is fueled by the relationships I make, build, and cherish. I love hearing people's stories, what makes them who they are, and where I fit into their lives. As the Content Services Manager at Leighton Interactive, I'm a storyteller. I'm lucky that I can use my natural ability to help people find their voices, tell their stories, and reach their goals so their businesses can get results. Outside the office I get excited to find sunshine, consume iced coffee, work out, or add unique pieces of jewelry to my ever-growing collection. I also tell stories on behalf of AAF and serve as District 8's Second Lt. Governor & NSAC chair.